For decades, the foundation of our breeding program has been based on the genetics of proven performance sires, and to keep our program moving forward, each year we also test young, promising bulls. We have built a cow herd proven to shine in the economically important traits.
Great Limousin bulls of proven worth that have left a mark on our program are Polled Pension, Polled Hawkeye, Extra Spectacular, Beefmaster, and the great one, Sooner Jr. Calving ease bulls who have set the standard in the breed for nearly 50 years have long been an integral part of our replacement heifer breeding program producing light birth-weights, trouble-free calving, and high maternal value replacements while maintaining performance and beautiful dispositions.
We continually researched and incorporating the greatest, historically high-performance genetics of the breed. Sires such as Jock 9W and Bullion moved us ahead quickly in the last 10 years and the more recent addition of Beefmaker 116D and his son LLR Commodore will keep Leonard Limousin at the forefront of the performance and feed efficiency breeders of Limousin cattle.
Our heifer breeding program in recent years has incorporated the proven AI genetics of Bullion and Nite Watchman. Both are black and polled and have been part of the assistance free calving record going on 20 years on 1st calf heifers.
Growth and efficiency have been the driving forces in our Angus herd as well, with the genetics of Crown Royal and Titus taking the performance to new levels of excellence. Historically, Jetliner, Discovery, Mainline, New Standard, and our own LR Champ served as the foundation of our Angus breeding program.
In all cases, you will be impressed with the disposition of cattle at Leonard Limousin. If they are not really quiet, they don't reproduce here and we don't sell them to anybody else either.
Hunk's extreme performance, body mass, and muscling promise to make him an extremely influential herd Sire for Leonard Limousin and for the breed as a whole. Only Hunk, his sire, and full brothers the Leoanrd herd sire Beemaker 116D
Only 7 Purebred bulls are to be found with YWT EPD of 157 or above and they are the Leonard herd sire RRABeefmaker 116D or Hunk and his sire or brothers.   Unfortunately, Hunnk's sire is deceased with little or no semen available. Regrettably, Hunk died unexpectedly this winter, and semen inventory is also very limited.  Hunk's 1st calves arrived in early 2022 and have his "look". All are black and polled. When looking to improve the pounds for sale, muscle, and "look" of your calf crop, a son of Hunk out of the high-performance Leonard cow herd will put you in the profit window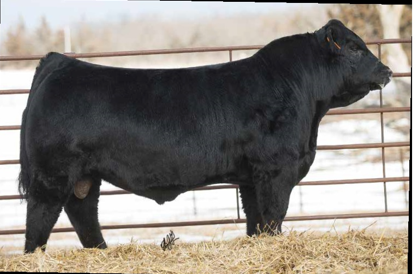 GV XtractorVIRG464J  was selected for his sire status at Leonard Limousin for his supreme calving ease credentials. With 21 CED and -5.3 BST EPD he is among the most elite calving ease bulls in the breed's history and still maintains average breed performance with strong maternal traits. Homozygous polled and supremely docile assures he will add much to the usefulness of the Limousin population.   We will be producing large numbers of calving ease bulls for the commercial industry with the influx of Xtraxts genetics into the high-growth Leonard herd.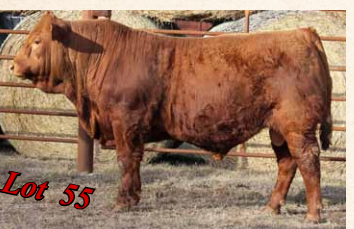 The highest performance active bull in the breed today. He carries a YWT EPD of 164. He has NALF Limousin percentage of 93%. You will not find a high percentage Limousin bull with semen available with a higher YWT EPD. As data on his first calf crop has been completed, his EPD for all profit traits has gotten even better. He is the only bull in the breed in top 1% for WWT, YWT, TM, SC, CW, and REA. When it comes to profitability – Beefmaker reigns supreme. Domestic and exportable semen is available.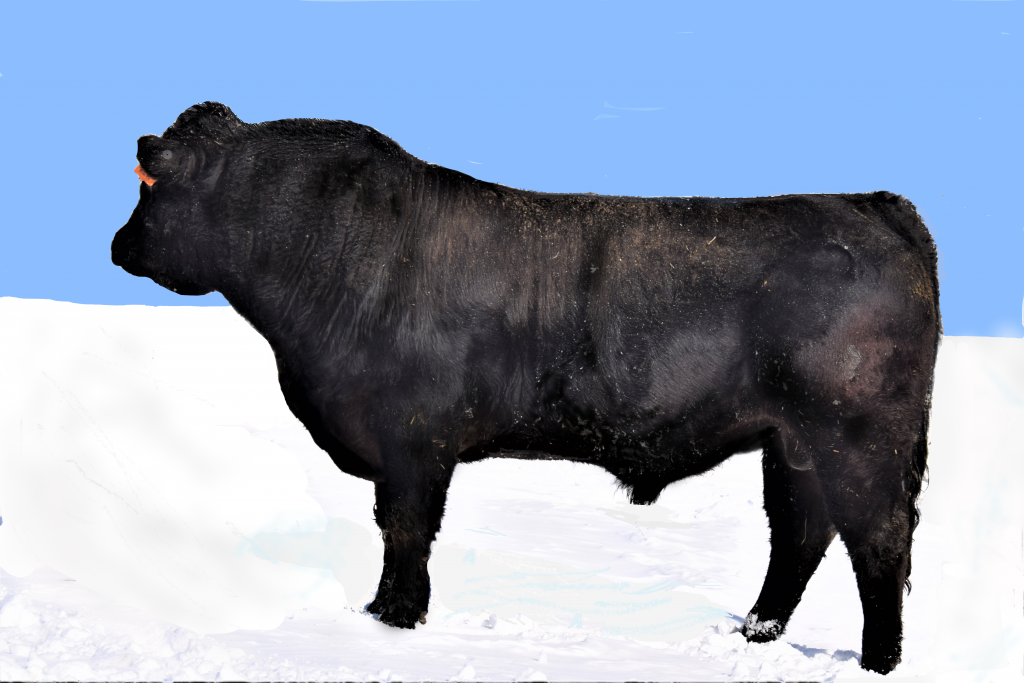 For several years, Jock 9W was the only purebred bull to have BWT EPD below 2.5 and YWT EPD over 130. He will also improve your cow herd milking ability. But the most amazing factor of all is the feed conversion.
Jock himself had individual feed conversion while on test of 3.2 lbs. of feed per pound of gain. He breeds it in his calves with his sons being the #1 feed conversion sire group 7 years running in independent feed conversion trials compared to well over 1000 other bulls every year. Of all the sires we've used over the years, only Beefmaker 116D calves have beat Jock's sons for performance. Very limited semen is still available, but we will share some with our friends.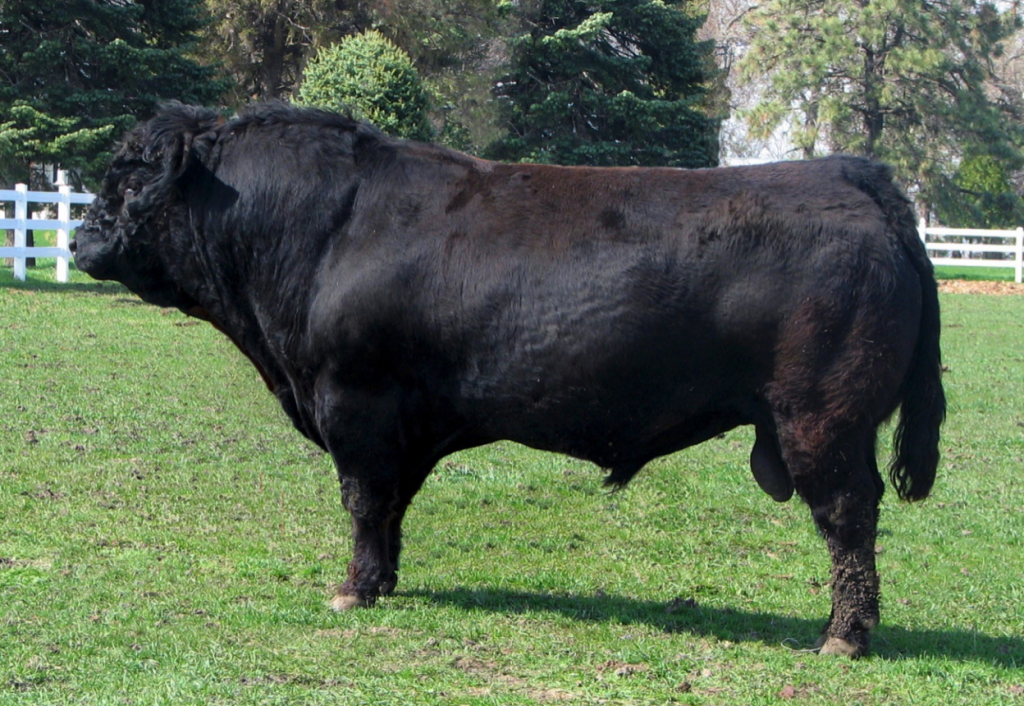 This massive made homozygous polled herd sire makes calves that look like Limousin. Great bone, body depth and overall mass. He is a great balance bull who does everything well and no holes in him. Semen available for domestic use only.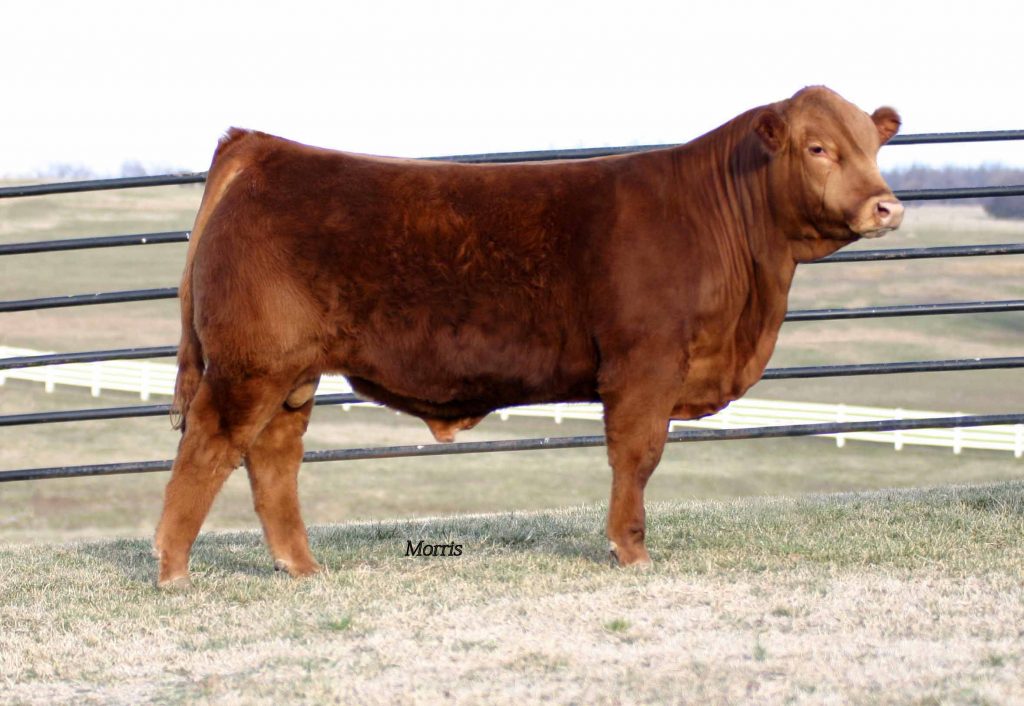 He is one of the great understated bulls of the breed. He combines explosive growth coupled with awesome calving ease. Every heifer on the place is AI bred to him (unless a daughter). With over 100 calves born from 2yr old heifers, not a single assist has occurred and yet this high accuracy herdsire has a YWT EPD of 120. The offspring are great on feet and legs, and daughters have awesome udder shape and longevity. No semen is available for sale. The little we have on hand will be used at LLR.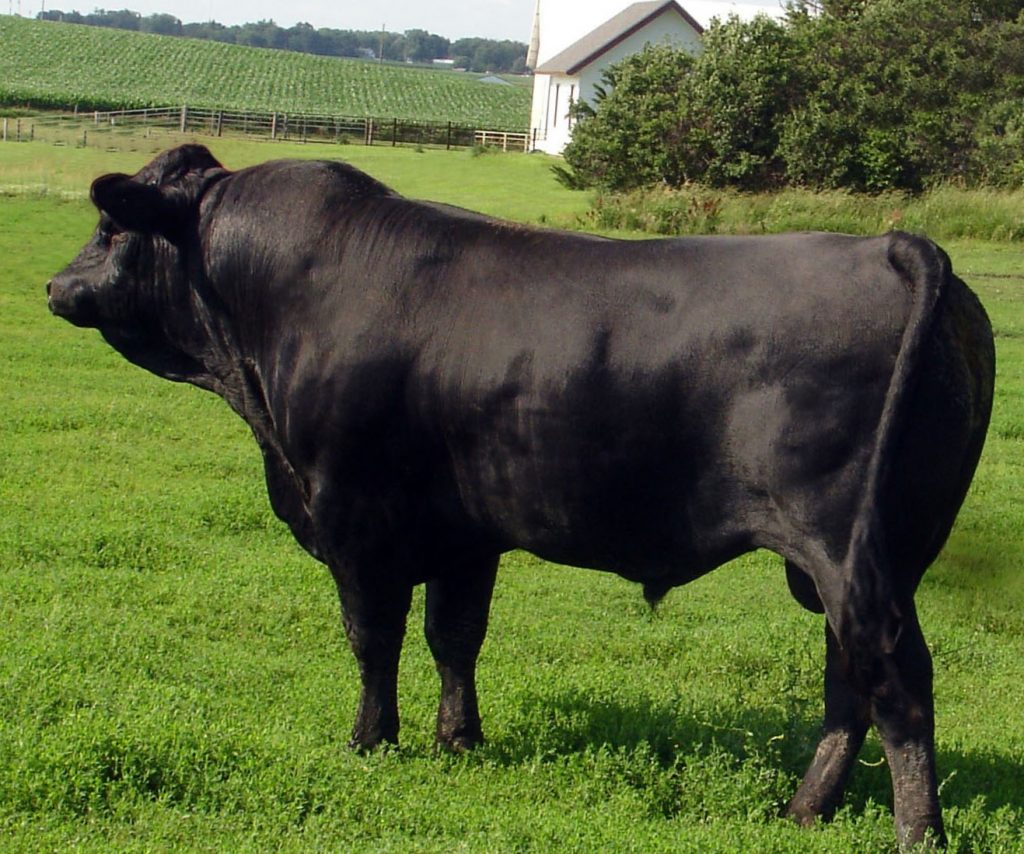 He is still just a yearling, but is slated to be a major herd sire for us.  This son of Beefmaker out of a Jock daughter is homozygous polled and homozygous black, plus he carries 2 copies of F94L gene. He is pure and simple an amazing performance animal.
With a 205 day wt of 824 and 365 wt of 1447 he comes in with ratio of 122 for weaning and 109 for yearling.  He also was our #2 bull for feed conversion of the 2019 calf crop at 4.90 lbs of feed per pound of gain.  He popped a 21.9" REA at 12 mos of age and IMF of 3.2 to give him an overall NALF carcass index value of $53.87 (top 1% of the breed).
In fact, he is top 1% of the breed for weaning wt, yearling wt, milk, total maternal, carcass wt, Rib eye and total index value.  He also is top 2% for scrotal and top 20% for marbling.  Only his sire matches him for top 1% profiles in the entire breed and Commodore is homozygous polled and black.  There is not a deeper sided, heavier muscled bull in the breed today that we know of.
Semen is available for use in the USA today. Exportable semen will be available in 2021. 
Current EPD as of 10-13-2020
EPD: Gest -3 CED 7 Bwt  4.4  WWt    93  YWT  148  MK  31  TM  77 CEM 6 SC  1.38  DOC 15 CW 55 REA 1.53 Marb -.27 
His registration # is NPM2262480  look him up to keep tabs on him as more data continues to be submitted on his calves and to view his entire pedigree.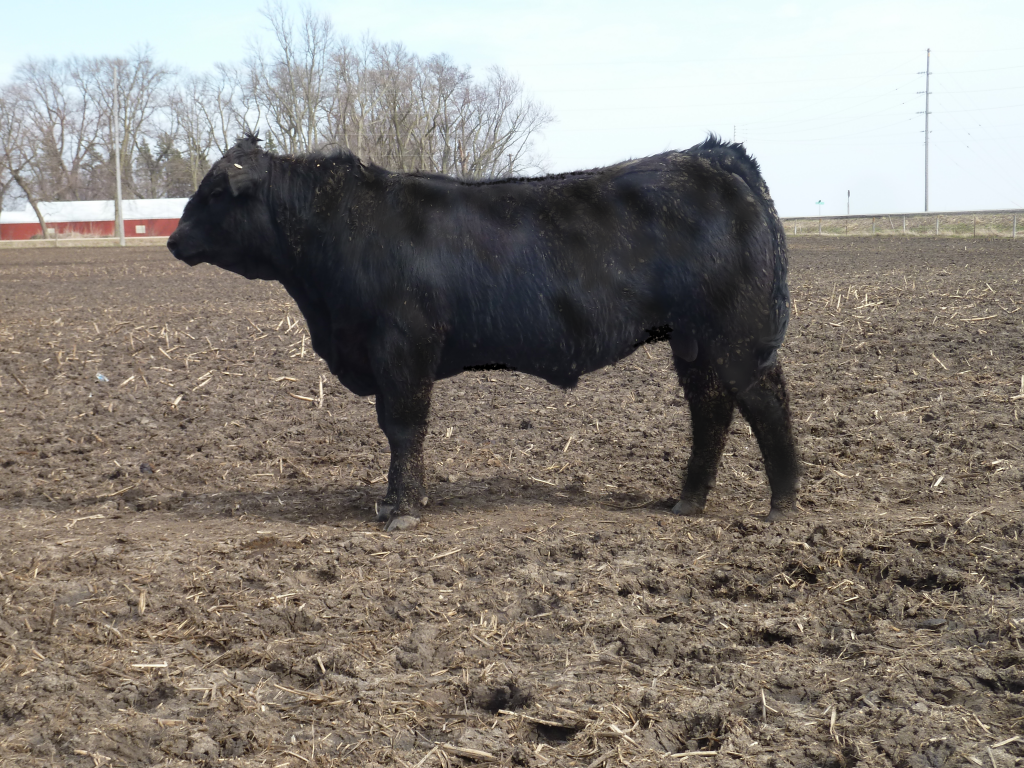 He is an 81% double polled herd sire we are really excited about.  As the only bull in the breed with BWT WPD under -1.3 and YWT EPD of 135 or above, he offers real value to all breeding programs. We will have quite few of his sons available for sale in 2021 as the first calf crop is born in 2020. Carcass Index Value of $51.40 puts him in the elite category of bulls today. Reg# NXM2136174. His unique pedigree makes him unrelated to a lot of the LimFlex cattle in the breed today and offers great promise as a calving ease sire with growth.
We were pleased to sell possession interest in General Grant to Gress Farms of Denison Iowa in 2020. Gress Farms was named the Commercial Cattlemen of the Year in Denver in 2019. They like to raise good ones.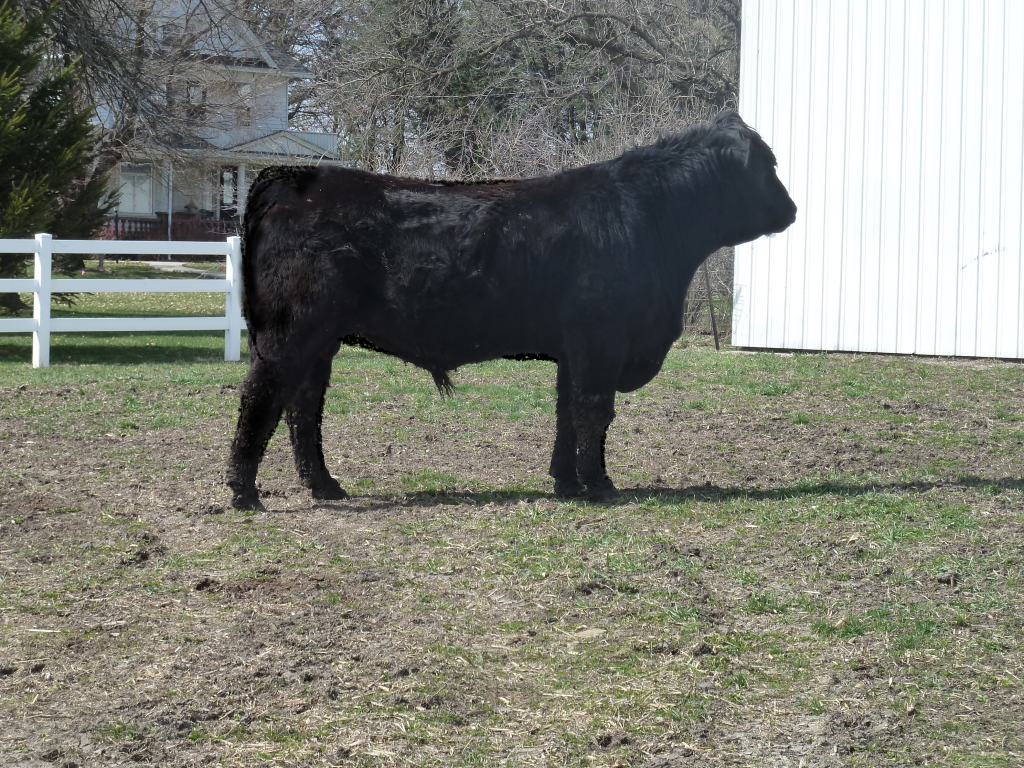 He's gone now but certainly will never be forgotten. He was a real buddy to everyone. We'd drive the trailer in the pasture and open the door. Pete would come trotting over and just hop in. He still bred natural service for us in the pasture when he was 12 yrs old. He had never had his feet trimmed or a bad day in his life.
His incredible disposition showed through in every son and daughter he produced. Buyers of his sons still ask if we have any Pete sons for sale.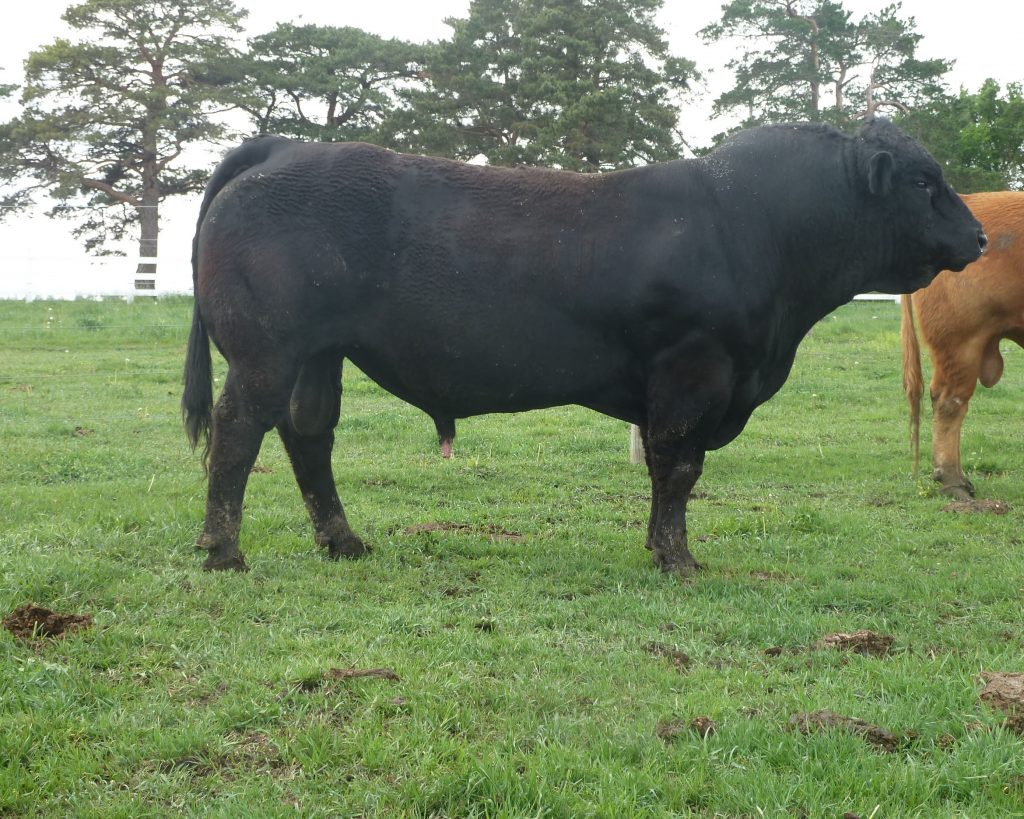 Without a question it was Sooner JR that put Leonard Limousin on the map. His first set of sons shown in the National Western Pen and Carload show were the talk of the yards due to their unprecedented performance and muscle shape in 1979. We still breed a few cows to him every year even though he is horned, but his daughters make such valuable cows that we always want to have some on hand and the fact is, he's a fullblood. We think too many breeders are diluting the percentage of Limousin in their cowherds and we want to avoid doing the same.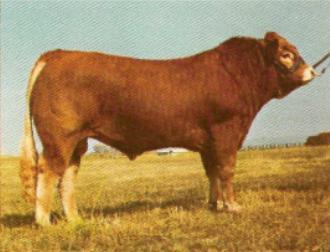 He was the high selling bull out of the yards at the 1990 Nat'l Western pen and carload show at $20,000. This son of Packleader had all the performance you'd expect (he is the only animal we've raised with a 1,000 lb 205 wt). He sired several champion steers in Oklahoma and Texas in the ensuing years and then spent his last 4 years servicing cows in the pastures at Leonard Limousin. He was a massive, heavy muscled bull and weighed in near 3000 lbs. at his peak.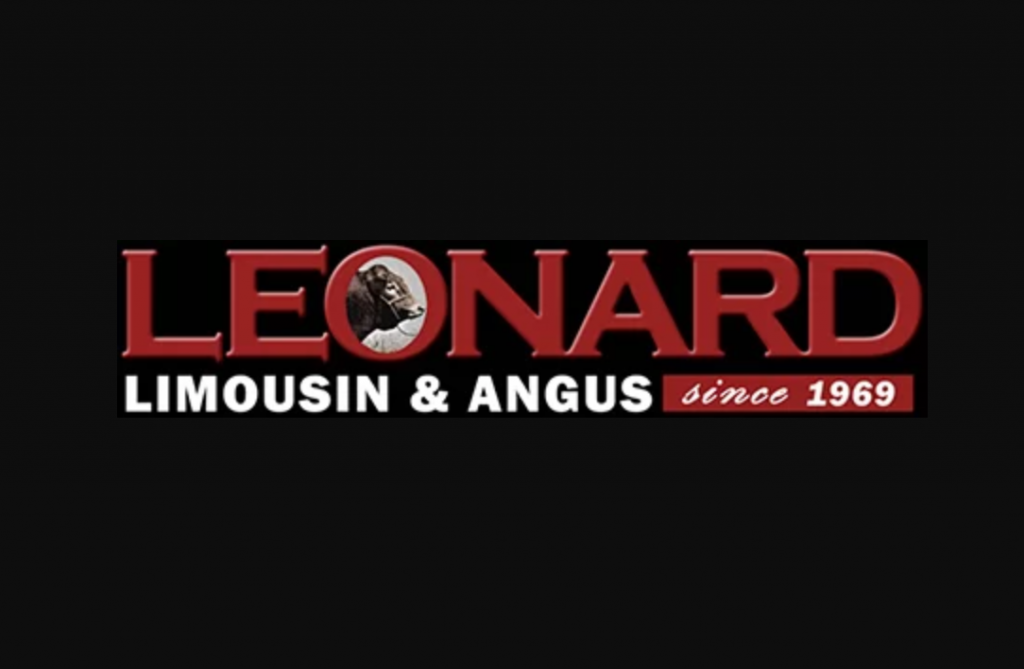 We were fortunate to have owned this great bull during the late 1990s. He was a big framed high growth bull that sold for $80,000 as a yearling. His calves were among the best of the best performance cattle in the time. With over 40,000 straws of semen sold on him internationally, he certainly paid for himself.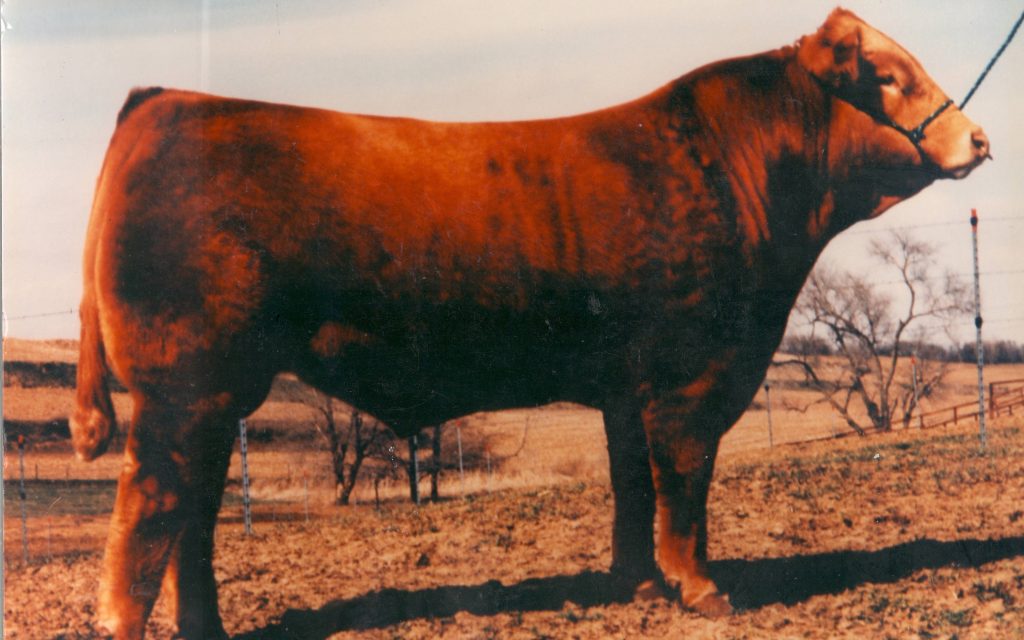 Polled Hawkeye is long deceased but left an indelible mark on the breed in the late 1970's and early 1980's. Cattlemen long assumed that purebred bulls could not compete with fullbloods and polled bulls could not compete with horned bulls. However, Polled Hawkeye turned the world upside down when in 1983 he was the #1 bull in the entire breed for growth rate in the NALF National Sire Summary. As a result, his use was widespread in the US and Canada as breeders flocked to use a polled bull that could produce performance cattle with muscle. His daughters were extremely feminine, but his sons were massive, heavy muscled bulls who found a lot of friends in both the commercial and purebred industry. Hawkeye was the bull that set the breed in motion to be a polled breed. Semen is no longer available as all has been sold out.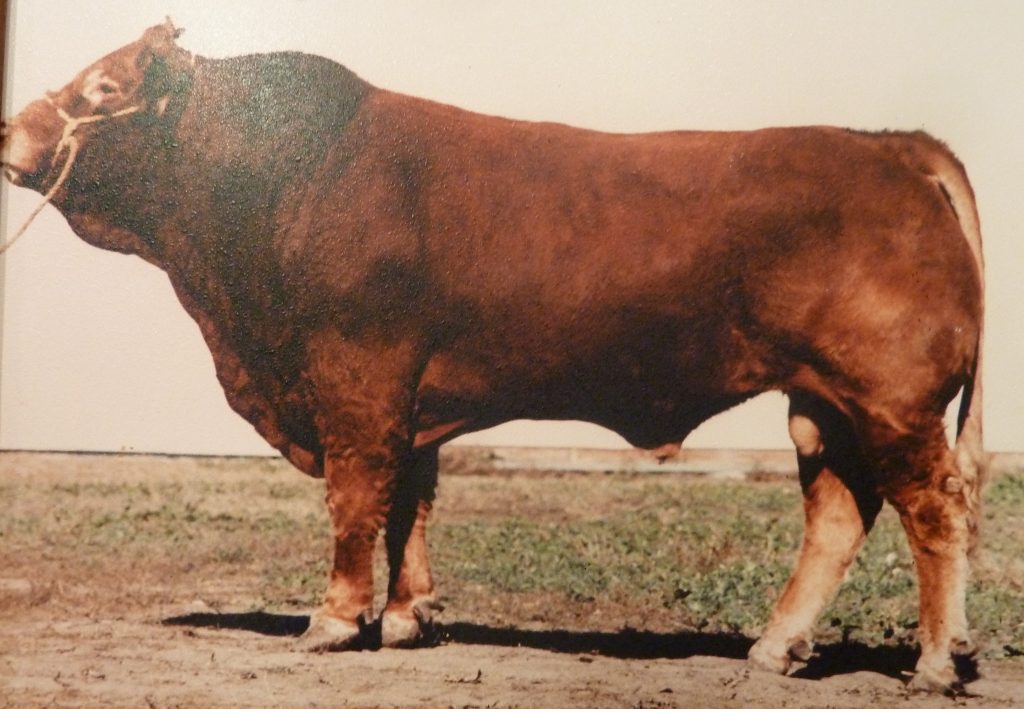 Extra Spectacular was the high selling bull of the National Limousin Sale in 1994 at $43,000. We had looked for several months to find the biggest butted polled bull we could not related to Polled Hawkeye or Polled Pension, and we found what we wanted in Extra Spectacular. He happened to be black, but that didn't matter. We wanted to get more muscle back into the Limousin breed and not give up performance. He did what we needed while producing calves with an abundance of eye appeal. Semen sales were quite good to purebred and commercial operations and all semen has been sold.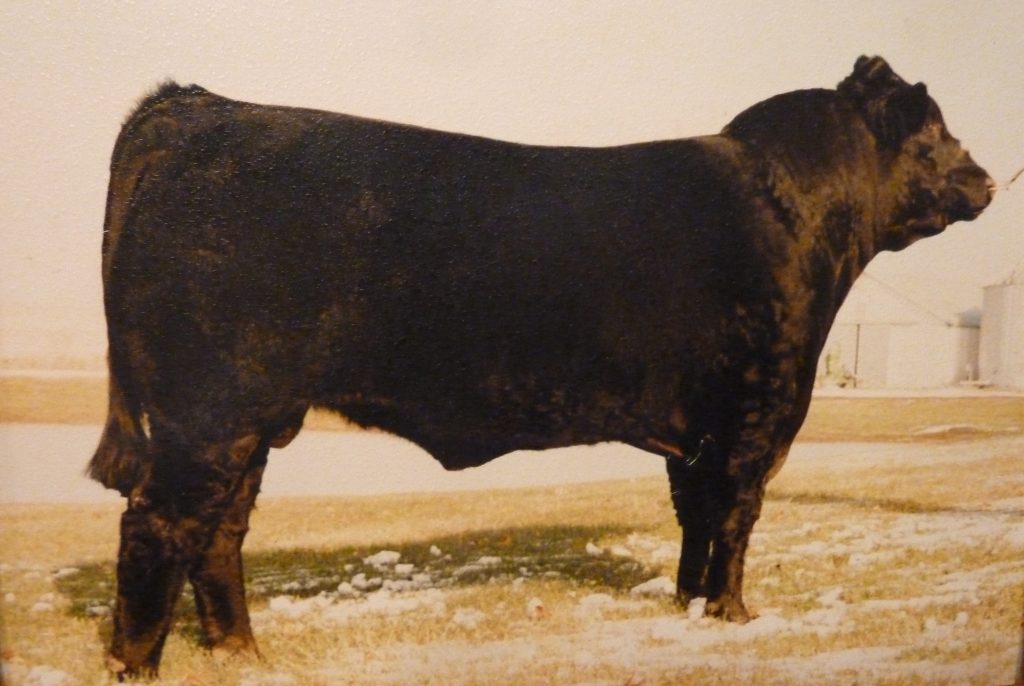 As the high seller of Wulf's sale in 2014 at $60,000, Leonard's were proud to be a part of the group making the purchase. Expectations were that he would be a moderating source for birth wts and offer great function in the females. He has succeeded in meeting those goals with daughters that are super quiet, big bodied, good footed cows with great fertility and udder quality. He is homozygous polled and one of those red bulls who breeds pretty consistently. Semen is available through Grass Roots and Limi-Gene.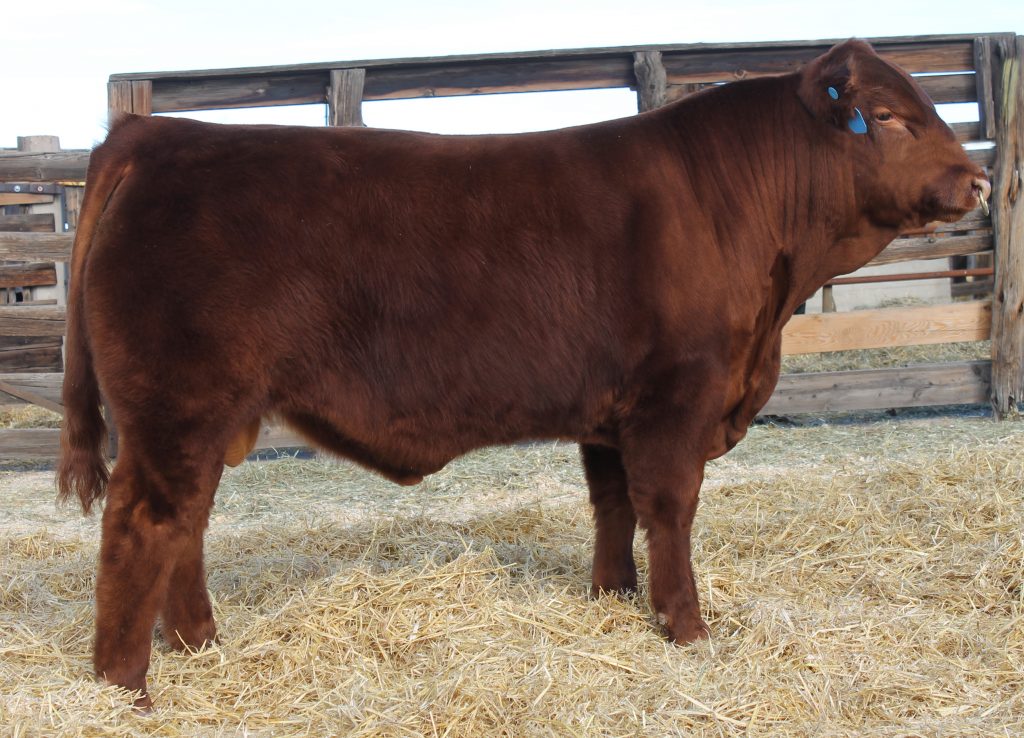 The outstanding son of Red Dirt is Argonne. He carries 2 copies of the F94L gene, is homozygous polled and loaded with muscle. He puts a huge rib eye on his calves and his daughters calve with ease. They have such beautiful correct udders they are a sight to behold. He is especially strong on early growth and his calves will reach most of their mature frame size by yearling time. At weaning time they are an easily identifiable sire group due to their extra muscle and mass. Argonne was our top performing and top feed efficiency bull in his calf crop and is pictured at just 15 months of age. If looking for all polled, heavy muscled red calves with superb disposition then you want to use Argonne. Semen is available by contacting Leonard Limousin.